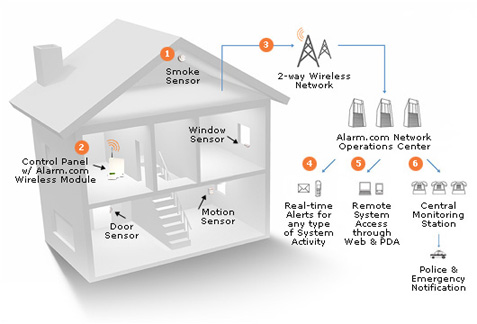 Technology has changed how people view security nowadays. With the influx of products such as CCTV cameras and alarm systems, more and more offices and companies are now relying on these state-of-the-art equipment to ensure the security of their surroundings. The latest trend in commercial security systems nowadays is the integration of different components as a part of a bigger, more complex and more sophisticated system.
What is an integrated security system?
This type of system would typically combine different components like fire and intruder alarms, PA systems, cameras and paging equipment all within one big system. In order for the entire system to work these individual components must be able to interact with each other as a single entity. An example of how this system works would be when the fire alarm goes off, it will automatically send a signal to the touch-screen VDU giving the operator a set of instructions on what to do. It will then automatically set a paging system to inform all the staff at the same time it will show through the cameras all the most accessible exit doors. A well-established system should be efficient, fast and reliable especially during emergency situations.
What are its benefits?
Most experts would agree that you will be able to get benefits from your system if it was designed properly. In addition to that, the system should be easy to operate because if not, it will defeat its purpose of being there in the first place. Unlike having components working individually, this system functions a lot faster and gets the job done in no time. Remember that when these systems go off they are usually because of an emergency. This is why its ease of operation should be the number one consideration because anybody would be hard pressed to work under pressure. Big companies shell out thousands of dollars to invest to their company security because the returns definitely far outweigh the cost of suffering damage to property as well as damage to manpower.
To design a large and complicated integrated security system, a team of experienced consultants is needed. At Aicent Security, we are able to provide a comprehensive and full scale security solutions for big organizations. Read about our integrated security solutions or simply Contact Us and we will get in touch with you.
Share